Vancouver Salmon And Sturgeon Fishing Report, April 5th
It has been an interesting week in local waters on the salmon front.  There has been fish coming out of all the local winter and spring chinook salmon haunts.  Unfortunately, they seem to be there one day and gone the next.   There has been some really nice fish coming from the Mouth of the Capilano River, the Freighters,  Jericho, the Bell Buoy and even a few early fish off the south end of Bowen Island.  Mid April is when things really start happening in Vancouver.   We will start to see good numbers of fish off the South End of Bowen Island, around the QA marker, the Gulf Islands and inside Vancouver.  If you are looking to do a charter, April and May are typically solid months for chinook in Vancouver.  We have some great fishing packages as well if you are looking for a quick overnight fishing trip with waterfront accomodation on Bowen Island and Gabriola Island  
http://bonchovy.com/package.php

.
[caption id="attachment_1911" align="alignright" width="300" caption="A nice May Chinook Salmon"]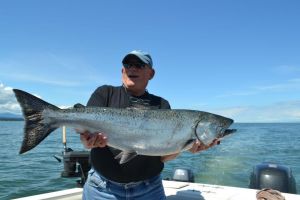 [/caption] We had some decent days last week with a few trips seeing 8 or 9 hook ups on legal and sub legal chinook. We had all 3 of our boats out on Tuesday and all the boats had very slow days.   The fish seem to be moving around a bit and are transitioning from their winter haunts into their spring haunts.  As we progress into April ourchinook fishery will definitely get better as it always does.  Chinook in local waters are no longer just be on the bottom as they were during the winter months, they are now starting to suspend in the water column and bouncing the bottom is no longer needed for success.  Last year in April we started getting fish off the south end of Bowen Island and in Vancouver Harbour as shallow as 40 feet.   The second to third week of April is usually when things start really turning the corner in Vancouver for chinook salmon.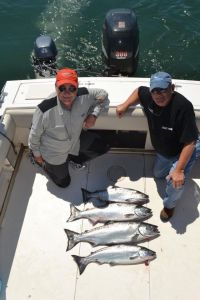 With the longer days and warmer temperatures, we will soon see a couple things happen in local Vancouver waters.    We will see a thick plankton bloom in the upper reaches of the water column and we will see the Fraser River come into spring freshet.  The combination of the plankton bloom and the silt from the Fraser River will create a layer of very cloudy water that filters out a lot of light where the salmon are.  If the layer of silty water is on top it is obviously  not going to let much light down below it.   This layer of dirty water means that glow lures, anchovies and flashers are very important  The salmon in the spring in Vancouver quite often sit in the clear water right below the dirty water layer.  Finding that zone is the key to success.  It is usually from 30 to 100 feet depending on the year and time of year.   Make sure your gear is visible and you will have success.   Use lures and flashers with some sort of glow on them, it will make a difference in the spring.   Any glow Gibbs Gypsy spoons or  Silver Horde Kingfisher spoons are good bets.  If you like to run hootchies, the Splatterback Yamashita in glow green and chartreuse are good ones.  Anchovies with glow or chrome teaser heads work well if you are running bait.   We also like to run glow flashers in the spring. We have been having reallyy good success on the Gibbs Bloody Witch Flasher recently, it really stands out. [caption id="attachment_1912" align="aligncenter" width="300" caption="A nice chinook caught last week! Bloody Ghost Flasher.."]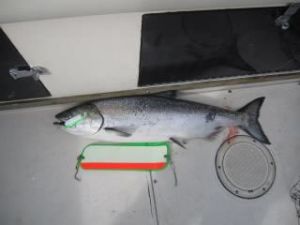 [/caption] Sturgeon fishing on the lower Fraser River has been excellent. Luke has been on the river quite a bit over the last couple weeks and has had some really good days, landing some impressive numbers of sturgeon.  If you are looking do a sturgeon trip, now is the time to go.  We should have some great sturgeon fishing until the Fraser River rises in late May.   Our sturgeon trips are only minutes away from the River Rock Casino and Resort.  Sturgeon fishing has never been so convenient in Vancouver.     The jet boat is only 15-20 minutes from downtown Vancouver by car and 20 minutes from downtown by the Canada Line.   If you are staying downtown, just hop on the Canada Line and you are sturgeon fishing in no time. [caption id="attachment_1906" align="alignright" width="300" caption="Nice 6 foot Vancouver Sturgeon"]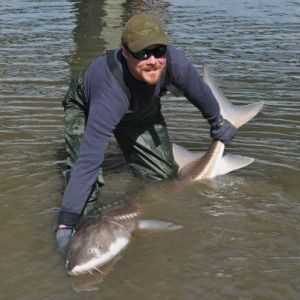 [/caption] [caption id="attachment_1904" align="alignnone" width="300" caption="Lower Fraser River Sturgeon caught in late March"]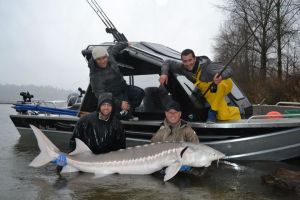 [/caption]
Give us a call to book a charter!   604 763 5460