Vancouver Fishing Report, April 20th
The south end of Bowen continues to produce some very nice chinook in the 12 to 22 pound range.  Over the last few days the fish have been reasonably shallow in the water column, with a good portion of our hook ups coming between 60 to 110 feet.  Yesterday 60 to 90 feet was ticket for most boats, us included.    Anchovies and spoons have been the ticket as per usual.   Iron Marlin had a shot at half dozen fish yesterday (a mix of legal and undersize).  Of the 6 hook ups, 4 were on a 3 inch Gibbs glow G force spoon behind a Bloody Witch flasher.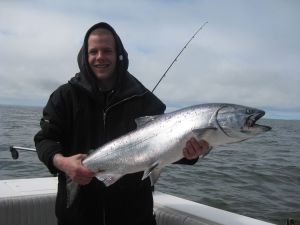 Our local fishery off the South End of Bowen Island should continue to improve over the next week or two and remain productive through the balance of May.  The Gulf Island's will start to really perk up at the end of the month and offer some great fishing for chinook salmon and ling cod.  There are days where the Gulf Island's are pretty tough to beat for action and quality of fish in May and June.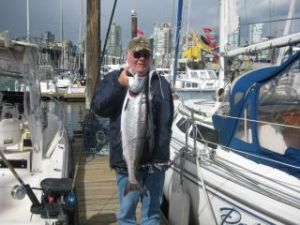 Luke has consistently been doing well on sturgeon in the Lower Fraser River. This past week has seen quite a few larger fish in the 5 to 7 foot range.  The fish are now quite active as the water is now really warming up and there is lots of food in the Fraser River.  With their more aggressive behavior, there has been some great aerial displays over the last couple weeks.  Pretty cool to see these massive fish come out of the water right behind the boat.   Have a look at our new sturgeon page on the site for more information, we  are only 15 to 20 minutes from downtown Vancouver.       
http://www.bonchovy.com/vancouver-sturgeon-fishing.php