Vancouver Fishing Report, June 19th
The  Gulf Island chinook fishing  has continued to be our main focus over the last week.   We have been spending most of our time off Thrasher Rock and in tight to the eastern shoreline of Gabriola Island.  There has still been some good numbers of fish offshore, but we have found the fishing in tight to the structure a little more predictable and productive.  The chinook salmon have continued to be deep and pretty close to the bottom with productive depths ranging in the 120 to 180 foot range.   We have not had to change our gear around too much this spring as glow spoons and glow flashers have been so productive for us and other anglers out there.  We have been running the larger Irish Cream and Kitchen Sink spoons behind either a glow green or chartreuse Highliner Flasher.  We have hit a few fish on splatter back hootchies this week, but spoons have hit the bulk of the fish.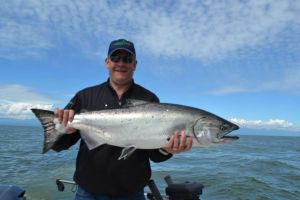 A big story this week was all the halibut that were incidentally caught while trolling for salmon.  There has been 10 halibut confirmed this week by our friends and colleagues.  We have caught 2 on our boats this week.  Sure nice to see these fish coming back to Georgia Strait.
The local coho fishery looks like it is starting to perk up..  We have had some reports of some coho showing and being caught along the West Vancouver shoreline.  It is usually the last week of June that things really perk up for Vancouver Harbour coho.  These early coho are in the 3 to 6 pound range and really respond well to hootchies and small spoons. [caption id="attachment_2062" align="alignnone" width="300" caption="Some early West Vancouver coho from 2012!"]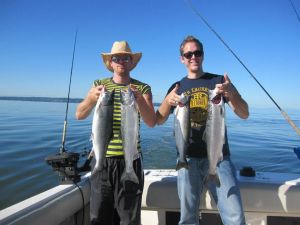 [/caption] Vancouver Sturgeon fishing in the Fraser River has been decent with some nice fish up to 6 feet landed over the last couple weeks.  We are fortunate the spring freshet happened quite early this year and the Fraser River is coming back into shape quite nicely.   We are going to have some very good water conditions in July and August with ideal fishing conditions for big sturgeon.  Our jet boat is located at the Vancouver Marina, only 15 minutes from downtown Vancouver.   We offer some of the most accessible sturgeon fishing to downtown Vancouver.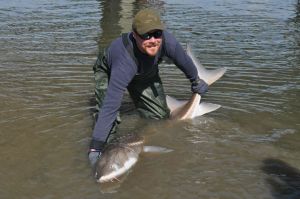 Give us a call to book a fishing trip!  We have some great options right now and in the coming weeks! Tight lines... Jeff, CJ, Luke and Jason