Vancouver-gulf Islands Report, June 26/13
The big story this past week has been the incredible numbers of coho salmon showing on the eastern side of Georgia Strait.   From Gabriola Island up to Parksville their has been some very impressive numbers of coho in the 4 to 6 pound range.  We fished for them specifically this week and had some very good action on.   The best coho fishing we found was north of Entrance Island up to Neck Point.    The coho have been hitting from 20 to 130 feet.  We had our coho hits running smaller Gibbs Flamin Hans spoons and the smaller Homeland Security spoon.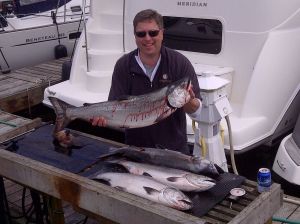 Chinook fishing has remained productive in tight to Gabriola Island.  Working the structure on the right tides is continuing to produce some really nice fish!   On the weekend there was a couple fish over 30 pounds landed by the fleet.  Our fish over the last few days came on the Yamashita Splatterback hootchies and the 4.0 Irish Cream spoon behind Green or Chartreuse Glow Highiliner Flashers.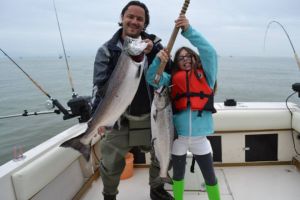 The local coho fishery has really not started yet in Vancouver Harbour as of yet....This annoying early summer rain has caused the Capilano River to remain fairly high and as a result the early coho are going straight into the river.  So, right now our local fishing has remained pretty tough.  It looks like it is going to get hot and dry by the weekend so it is very likely we will see the first good stretch of  Vancouver Harbour coho fishing starting this weekend and into next week.
Tight Lines,