Vancouver Fishing Report, Aug 7th
West Vancouver has continued to produce some decent numbers of pinks and coho salmon.  We have primarily been working the flats off the Pink Building and Dundarave, but there has been some good flurries closer to the mouth.  We have also had a few nice chinook back to the dock this week.   The schools of coho and pink salmon along the West Vancouver shoreline are starting to get a little bit finicky, so some days have required more persistence than we needed last week.   Anchovies, pink and white hootchies, and smaller coho killers behind Moon Jelly Flashers has been our best bests.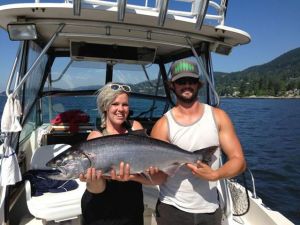 We are starting to switch gears now that the Fraser River Chinook are starting to enter local waters.  Typically from now thru early September is prime time for Fraser Red chinook.  These fish are some of the largest and best fighting fish of the year.  We are starting to see good numbers of chinook entering the Fraser River so areas like the Bell Buoy, North Arm, and the Sandheads will all be good bets.   Jeff was out off the Fraser Mouth yesterday morning and hooked a couple chinook and a bunch of early Fraser River pink salmon.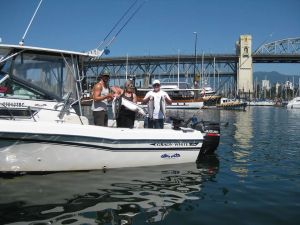 Sturgeon fishing has been very good over the last week.  Luke and Eric have guided some incredible fish up to 8.5 feet.  The fish have been on the larger side so far this month with the majority of the fish being in the 4 to 6 foot range.  Great to see!  August is a great month for sturgeon fishing as fish are starting to key on the salmon runs that are entering the Fraser River.   Our Vancouver Sturgeon fishing charters depart the Vancouver Marina, only 15-20  minutes from Downtown Vancouver.
Please call us to book a salmon or sturgeon charter!   604 763 5460
[caption id="attachment_2152" align="alignnone" width="300"]
Vancouver Sturgeon[/caption]