Vancouver Fishing Report, September 17th
We have had a very interesting week of fishing in local waters!  We have seen some decent flood tides off the West Vancouver shoreline for Capilano River bound chinook salmon and we have also had some great action off the south arm of the Fraser River! Sturgeon fishing has been very good as well. The south arm of the Fraser River provided us with some very active days late last week.  We landed all 5 species of salmon!  We carefully released the sockeye and wild coho we caught.  On Friday, a very hungry pod of Orcas came through and made a mess of things and slowed the fishing down considerably.  There will be waves of chinook, coho, pinks, and increasing number of chum salmon off the Fraser River Mouth for the next few weeks.  Our longer trips to the south arm of the Fraser River require an 8 or 10 hour charter.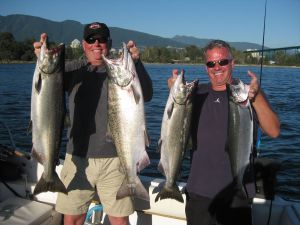 The West Vancouver Chinook fishery is now well underway and we have been spending a lot of time fishing there on the flood tide.  As it is still early in the run, the fish are being found at all depths.  As the fishery develops we will see the majority of the fish being taken pretty close to bottom.   There has also been some coho caught while fishing for chinook.  The Capilano Mouth fishery is only a few minutes from our docks and provides some good fishing for big fish up to 35 pounds until the middle October.  If you are looking for big fish only minutes from downtown, now is the time to go! Our fall run chinook salmon are best fished with bait.  Larger anchovies and herring behind the Gibbs UV Moon Jelly and  UV Lemon Lime Flashers have been best  for us.  Hootchies and spoons will take the odd fish, but it is tough to beat bait from now until the chinook run is over in Mid October.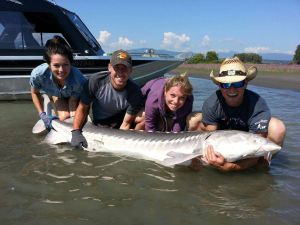 Sturgeon fishing has been really good in the Fraser River with some big fish getting caught and released!. With all the spawning salmon in the river now, the sturgeon are feeding heavily.  The next couple months are prime time for big fish in the Fraser River.  When our saltwater salmon season slows in Mid October, sturgeon fishing is at still at its finest well into November.  Give us a call if you want to get out and take a crack at these freshwater giants!
604 763 5460                                  info@bonchovy.com