Vancouver Salmon And Sturgeon Report, October 2nd
The extremely wet weather we have been having in Vancouver over the last week has really taken its toll on our chinook salmon fishery off the Capilano River.  Most of  the fish that were staging before the rain have taken advantage of the high water in the Capilano River and gone upstream.  There is still fish arriving every day, but you have to be lucky to intercept them.  The weather is looking like it is going to smarten up and  we are now going into a drier, less stormy pattern.  The drier weather will cause the Capilano River to drop and encourage more salmon to hold off the mouth. We should see our local fishery  pick back  up in the coming week.   Looking at the forecast, we should see river levels drop and fishing start to pick up by Sunday or  Monday.
Due to all the heavy rain we have had this week, we  ran a little further yesterday to fish the mouth of the Fraser River.    The longer run was definitely worth it as we hooked double digit numbers of coho salmon .  We fished for the afternoon and kept 4 nice hatchery coho and a nice chinook.  We also released some wild coho.  We had  our success running glow Yamashita hootchies and anchovies behind Gibbs UV Moon Jelly and UV Lemon Lime Flashers.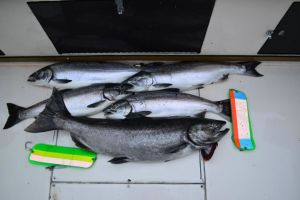 With all the heavy rain, the Fraser River mouth is a very good bet as it is not affected by rainfall as much as the Capilano.  We will see coho, chum, and the odd chinook salmon off the Fraser for the next few weeks.  For trips to the Fraser River Mouth an 8 hour charter is needed.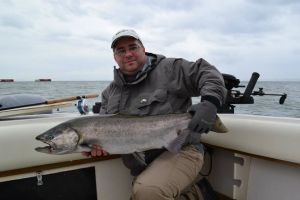 Sturgeon fishing on the Lower Fraser has been excellent over the last couple weeks.  We have been getting some impressive numbers of fish and some great fish up to 8 feet.  The fish are feeding heavily and we should be in for some of the best fishing of the year for the next 6 or 7 weeks.  We are only 15 minutes from downtown Vancouver, sturgeon fishing has never been so convenient!         
http://www.bonchovy.com/vancouver-sturgeon-fishing.php
Call us to book a charter : 604 763 5460