Salmon Spawning In Still Creek, East Vancouver
I left the fishing rods at home today and headed to Still Creek in East Vancouver to have a look at the chum salmon that were reported to be spawning in the creek.   Still Creek is an urban stream that has its headwaters up in the Renfrew Heights area of East Vancouver.   The stream meanders its way through East Vancouver and Burnaby where it empties into Burnaby Lake   To get into Burnaby Lake  the salmon must first migrate up the Fraser River and then turn into the Brunette River.  Up until two years ago there were no salmon in Still Creek.  Now with the removal of some barriers and cleaner waters, salmon are now back spawning in the creek after nearly an 80 year absence.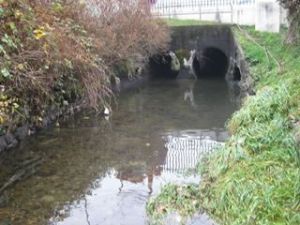 I had heard that the majority of the fish were hanging out and spawning behind the Canadian Tire near Grandview Highway.  I have searched out salmon in some  pretty wild and crazy places, but looking for salmon amongst shopping malls and busy city streets was new to me.  I did not see any fish behind Canadian Tire, but there was lots of chum in the section of the stream behind Vancouver Film Studios.   I rode my bike further east into Burnaby and saw salmon spawning in quite a few other runs, riffles and tail outs in Still Creek..  Such a treat to salmon in our backyard! Here is a clip from today in behind Vancouver Film Studios in East Vancouver! Jeff and Luke were out on charters today with a big group from Alberta that are fishing with us for a couple days.  Half the group went salmon fishing and the other half of the group went sturgeon fishing today.   Sturgeon fishing was excellent landing 19 sturgeon for the day.  Salmon fishing was pretty tough as expected, but the guys did pretty good on prawns and did have a good time at the pub on Bowen Island. Give us a call or an email if you are interested in a salmon or sturgeon  fishing charter!  Sturgeon fishing will continue to be productive through November and winter chinook salmon fishing will really pick up in December!