Bon Chovy Fishing Charters- Year In Review 2013
Vancouver Salmon Fishing Season in Review -  2013
[gallery ids="2382,2182,2164"]
 January
During the first couple weeks of January we dedicated most of our effort to fishing the West Vancouver shoreline, the back side of Bowen Island, and Gambier Island.  Our results were mixed.  Some days we had a shot at a handful of winter chinook salmon up to 15 pounds, and some days we had to work for a hook up or two.  As we progessed into the second half of January we started hearing reports of some incredible fishing for winter chinook salmon in the Gulf Islands.    Some of the old timers were calling the action off the southern Gulf Islands some of the best in years.  We did a fair number of full day  trips over there in January and had some amazing days with lots of action.  On some of the more active days, hooking 15 to 20 salmon a trip was pretty common.  Not all the fish were legal, but there was quite a few legal fish in the mix.  With such great action over on the far side of Georgia Strait, we did not fish the Vancouver side all that much in the second of January.    We had all of our success on spoons in the 2.75 to 3.5 inch range.  Our best producers were the Silver Horde Irish Cream, Kitchen Sink spoons and the Gibbs Flamin Hans Gypsy spoon.  We ran the spoons behind Green and Chartreuse Gibbs Glow Highliner Flashers.   In January, we fish really deep and there is not a lot of light down there, glow flashers and lures are key. [gallery ids="1729,1765,1791,2381,2382,2383"]
February
February saw the Gulf Island`s continue to kick out some solid numbers of winter chinook.  We continued running across when weather permitted and were quite successful on most of the trips we did over there.  Things slowed down in mid February and our efforts over there decreased and we started fishing Vancouver Harbour and Howe Sowe more consistently.  There were some nice fish in 8 to 14 pound range in both locations.  Fishing was ok locally and being  persistent typically paid off with some hook ups.  The crabbing really starting getting good in Vancouver Harbour.  Spoons and glow flashers still dominated our tackle line up in February. [gallery ids="1817,2384,2387,2388,2389,2392"]
March
March continued produce some nice winter chinook up to 15 pounds in Vancouver Harbour and Howe Sound.   The action was ok and we were usually hooking 2 to 4 chinook a trip.  Some of them were legal and some of them were undersize.   We did find some more substantial numbers of chinooks on our full day trips further out in the Strait of Georgia.   We had some good success on Silver Horde Coho Killers in addition to our other favourite winter chinook spoons. Prawning and crabbing were excellent in March.
April
April is often referred to as a break out month for salmon fishing in Vancouver as  the weather warms up and we switch gears from bouncing bottom for winter chinook in Howe Sound and Vancouver to offshore fishing for travelling and feeding chinook.   After fishing the Capilano Mouth and Howe Sound for the first couple weeks of the month, the South End of Bowen Island picked up for 10 to 25 pound chinook around the 15th of April.   When the weather allowed we enjoyed some great fishing 2 to 8 miles off the south shore of Bowen Island.   The fish were actively feeding on 3 to 5 inch herring.  After dragging bottom for chinooks in the winter, these spring fish were found suspended from 60 to 150 feet down.   We started using bigger lures in April and we had lots of success on some larger glow spoons.  Our favourites were the 4.0 Silver Horde Irish Cream, Kitchen Sink, and Homeland Security spoons.  We also had some great success with the new at the time Gibbs G-Force No Bananas spoon.  Anchovies and Yamashita green and chartreuse splatterback hootchies were productive as well. Towards the end of April the Gulf Island's also really picked up.
 May
The month of May was an explosive month of fishing in Vancouver.    During the first few weeks of May, the South End of Bowen and the Gulf Island's were very good for chinook salmon in the 10 to 30 pounds.   We had some big number days with double digit hook ups on a trip not being at all uncommon.  Amongst the good days, there was obviously some slower days.   The fishing over on the Gulf Island's was best in 600 to 1200 feet off the eastern shoreline of Gabriola Island.  Off Bowen Island, the best fishing was off the "Hump" a 400 foot offshore ridge a few miles south of Cape Roger Curtis.   We had decent weather last May so we are able to cross Georgia Strait on most days.  Towards the end of May, the Vancouver side slowed right down and we focussed all of our effort over on the Gulf Island's.  The same gear we used in mid to late April also was the ticket in May. [gallery ids="2399,2402,2012,1987,2004,1960"]
 

June
We spent a lot of time fishing the Gulf Island's during the month of June.  We had some continued good days on chinook and some very nice weather.  Our offshore fishery transitioned into an inshore fishery and we had our best success off the reef at Thrasher Rock and along the cliff walls off the Grande and the Waterfall.  In addition to the chinook salmon, we were surprised and happy to find excellent numbers of coho and even a few halibut.  We caught more coho and halibut during the month of June than we ever have in June.  There were days north of Entrance where hooking 30 to 40 coho a morning was commonplace.  There had not been numbers of coho in Georgia Strait like that in over 25 years.  We can only hope that the rebuilding trend continues!  By the third week of June we started seeing some Squamish River bound chinook salmon in Howe Sound and had started hooking some fish at Hole in the Wall.  By the last week of June we started hitting the odd coho off West Vancouver.  The Vancouver Harbour coho fishery was slower than normal in June as the water levels were quite high in the Capilano River and most of the early coho entered the river.[gallery ids="2050,2094,2049,2075,2069,1542"]
 

July
Things started to really perk up in local waters during the first week of July.   Good numbers of hatchery coho showed along the West Vancouver shoreline and a good pocket of coho also rolled into Howe Sound near Hole in the Wall.   We had some very good fishing for coho for a couple weeks before things transitioned into a mixed fishery for pinks, coho and the odd chinook along the West Vancouver Shoreline and Howe Sound.  By the 3rd week of July, the pinks were thick as fleas and the action was furious for these 3 to 7 pound fish.  We primarily fished the West Vancouver shoreline in mid to late July, but we did make quite a few trips up Howe Sound to cast to the massive schools of pink salmon with our spinning rods.   The Gulf Island`s  produced some chinook and coho in July, but with the great action in local waters, we did not feel the need to make the run over there.   For the pinks and coho we had really good success running white Yamashita hootchies, Gibbs Red Hockey Sticks, Silver Horde Pink Coho Killers, and anchovies.  The Gibbs UV Moon Jelly Flasher was unbeatable in the murky Vancouver Harbour water in July.  When we were casting to the schools of pinks we had success on Gibb's Minnow's and Blizzard's.[gallery ids="2129,2114,2115"]
 

August
This past August was one to remember..  We started the month off with some incredible light tackle fishing for pink salmon up Howe Sound.  Just like the latter part of July, the schools of pink salmon were so thick that some mornings we were hooking 50 plus fish on our little spinning rods.  The action slowed down in the second week of August and we switched gears to  focus on the big Fraser chinook salmon.  By the 10th of August, good numbers of red chinook salmon were getting hit off the Bell Buoy, Jericho, North Arm, T 10 and the Sandheads.  By the third week of August the action picked up even more as the first wave of Fraser Bound pink salmon also showed up to really make things crazy.  On some days in August it was commonplace to hook 6 to 10 big chinook a charter along with lots of pink salmon and some early Fraser coho.   This past August was one of the best months for Fraser Chinook that we have seen in recent years.  To target these big chinook off the Fraser River we put all of our faith in two set ups.   We ran anchovies and Yamashita glow hootchies behind Gibbs UV Moon Jelly and the new Gibbs UV Lemon Lime Flashers.  These staging salmon off the Fraser Mouth were generally between 30 and 75 feet deep.  By late August we started seeing more and more coho salmon in the mix, which ended up being up being a sign of things to come in September and October. [gallery ids="2212,2449,2188"]
September
The chinook, pinks and increasing numbers of coho salmon  kept on rolling in to the Fraser Mouth with each high tide in September.  Around the 7th of September we started putting our time in off the Mouth of the Capilano for the big fall run white chinook.  Fishing was pretty decent with some good days and some slow days.   It is pretty hard to beat fishing for 15 to 35 pound chinook salmon only minutes from downtown Vancouver.  The peak of the Capilano River chinook run is from September 15th to October 15th.    Unfortunately this year our fishery got cut short as we had some torrential rans in late September that encouraged the bulk of the Capilano chinook run to enter the river.  On a normal year, little or no precipitation results in some great fishing off the West Vancouver shoreline because the fish do not enter the river.   Since the rains came early,  the fishing got  pretty tough off the Cap by the end of September .  Fortunately, the Fraser Mouth was producing chinook, coho, pinks, and some early chum salmon.   Our tackle set ups stayed the same as August while we fished the Fraser Mouth in September.  When fishing the mouth of the Capilano we ran anchovies behind Gibbs Highliner Glow Flashers. (Chartreuese and Green)  We also had success rolling whole herring off the bottom for the Capilano bound chinook.  The pleasant surprise in September was the impressive numbers of coho off the Fraser Mouth.  It has been years since we have seen such good numbers of coho (mostly wild coho).  It looks like a rebuilding trend is in place for Georgia Strait coho as things are looking good for coho in 2014.....great to see!! [gallery ids="2234,2225,2246"]
October
With the heavy rains we experienced in late September, we pretty well wrote off the Capilano Mouth for the year.  There was the odd fish picked up through October, but it was pretty scratchy at best.  Unfortunately in 2013 our urban big chinook fishery that we typically enjoy in October, was a bust!!   Not all was lost though, the strong coho returns in 2013 led to some great fishing off the Fraser River Mouth.   Instead of doing our half day trips to the Capilano Mouth, we pushed our guests to do longer 8 and 10 hour days to fish for coho, chum, and the odd late running Fraser Bound chinook..    We had some solid days up until the 20th of October , especially from the Sandheads south.  Most of the fish we landed in October were wild coho that had to be released, but most days we landed some nice hatchery coho and chum salmon to take home.   We landed a few late chinook salmon as well. We stuck with the same gear in October running anchovies and glow Yamashita hootchies behind Gibbs UV Moon Jelly and Lemon Lime Flashers. The latter part of October was pretty quiet as most of the migratory salmon had entered local rivers to finish their spawning run.   Sturgeon fishing was the only show in town in late October and November.  Sturgeon fishing was VERY good in the fall.[gallery ids="2253,2252,2255"]
 November
November is the toughest month of the year for salmon fishing in Vancouver, and this year was no exception.   There were a few early winter chinook around, but you definitely have to put your time in to get them.  We hooked a couple decent fish in Howe Sound in mid November and heard of some legal fish over on the Gulf Islands, but it was nothing to write home about.  The highlight of the month was the group from Alberta that flew in to do some sturgeon fishing in mid November.  They fished 2 days and landed over 5o sturgeon while fishing with Luke.  Pretty spectacular sturgeon fishing only 15 minutes from Vancouver!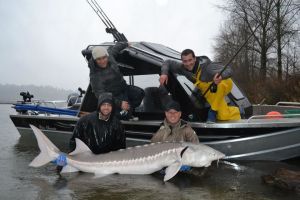 December
After 6 weeks of pretty limited salmon fishing opportunities in Vancouver, we started hooking winter chinook on a fairly regular basis during the first week of December.  So far this December there has been more undersize fish than legal fish.  We have managed a few keepers, but the majority of the fish we have hooked have been in the 20 to 24 inch range.  We should see more legal fish in the NewYear.   The best fishing has been along the West Vancouver shoreline running Silver Horde and Gibbs G Force spoons near the bottom.  Crabbing really picked up in mid December after the commercial crab fishery closed on December 1st. [gallery ids="2435,2335,2426"]
Looking forward to 2014!
Early indications from the Department of Fisheries and Oceans is that we are going to see some strong chinook, sockeye, and coho salmon returns in 2014.  There are a few areas of concern, but overall we are looking good for this coming year.  We are really looking forward to the sockeye fishery in 2014.  It has the potential to be one of the biggest returns in recent memory, as this brood year are the offspring of the record Fraser River sockeye run of  in 2010.  There was a record number of  out migrating sockeye smolts in 2011 and we are optimistic of a fantastic sockeye run!  Peak timing should be from August 10th to September 10th.   Nothing in fishing is ever guaranteed, but there is lots of excitement  for this years salmon returns, get ready!!
Happy New Year and Tight Lines from the Bon Chovy Crew!
Please give us a call or email to plan your 2014 fishing trips!!!
604 763 5460                                www.bonchovy.com