Vancouver Saltwater Fishing Report, January 28th
We have been out on the water quite a bit over the last 10 days with consistent results, but less action than before the full moon in mid January.  It seems like  every winter chinook spot in the Vancouver area is holding fish, just how many varies from day to day.   On average we have been hooking 2 to 5 fish a trip recently.  Most of the fish have been right around the legal size limit, we have not seen too many larger 15 to 20 pound fish yet this year.  We have been spending most of our time in Vancouver Harbour and Howe Sound.   There has not really been a hot spot, it has more been a matter of putting in a good effort  to get hook ups.    The west side of Bowen Island, Jericho, the QB marker, Ambelside and the Cap Mouth are all good bets right now.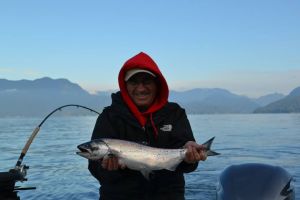 As per usual with winter chinook, keep your gear near the bottom and look for bait fish on your sounder.  Where there is bait, chances are there will be fish as these winter fish are actively feeding.   We have had our success on a few different combos over the last couple weeks.    For flashers we have been running the  Gibbs-Delta UV Lemon Lime,  Gibbs-Delta "Guide Series Bon Chovy", and the good old Gibbs Highliner Chartreuse Glow.  Productive spoons have been the Silver Horde Irish Cream, Cop Car, Homeland Security as well as the Gibbs G Force "No Bananas" spoon.  Coho Killers have also put some fish in the boat.   Come check out our Gibbs-Delta Pro Shop at our new location.  We carry the right gear for our Vancouver fishery and have the most up to date fishing information in town!  If we don't use it, we don't carry it.    Check out this link for more details...
 http://www.bonchovy.com/blog/2014/01/new-location-and-gibbs-delta-pro-shop/
If you are looking at doing a winter chinook charter, we are running our "Winter Chinook Special"  from now until March 15th.  It is a great way to get out there and chase these winter fish at a great rate.   Check this link out for details!  
Tight lines....   Jeff, Jason and Craig
www.bonchovy.com                         604 763 5460