Vancouver Fishing Report, March 25th/2014
The warmer sunny days are finally becoming a little more frequent.  We have enjoyed some beautiful sunny days, mild temps, and some good fishing on our longer 8 hour trips to Howe Sound and the Sunshine Coast.   We have had a few really active days over the last week where we have hooked up to 7 or 8 fish on a trip.  There are still quite a few undersize salmon around but we have been quite lucky over the last week and landed a good number of legal fish.  Crabbing has been excellent and prawning has been really good as well.[gallery ids="2603,2604,2605"] Vancouver Harbour has kicked out the odd fish over the last week, but overall things have been pretty tough off the Mouth of the Capilano, West Vancouver, and the inner freighter anchorages.  Things should change pretty quick as we usually see a bump of fish around now over towards Jericho and out towards some of the outer freighter anchorages.  There was a few decent fish hooked there on the weekend, so it will likely be a good bet for the next week. We are still in winter chinook mode in terms of our gear selection and the way we are fishing.  We are staying close to bottom, looking for bait, and working structure.  We have been having excellent success on the new "G Force Bon Chovy" spoon, green and white coho killers, and the always productive Irish Cream spoons.  We have been running our gear behind our favourite Gibbs-Delta  Guide Series Flashers. (UV Lemon Lime, STS, Bon Chovy, and No Bananas)[gallery ids="2610,2611,2612"] In coming weeks we will start to switch gears and start targeting fish that will be suspending in the water column.  As the weather warms up, plankton blooms start, and more silt enters local waters we will start to find fish scattered throughout the water column.  Starting right around now, it is a good idea to stagger your depths as more fish will suspend as we get in to April.  We will start running  more bait, bigger spoons and hootchies as we get into the offshore fishery off of Bowen. Sturgeon fishing is also heating up on the Fraser River.  With the warmer temperatures and the arrival of the eulachon run, April is an excellent month to fish for sturgeon in the lower Fraser River.  Our sturgeon boat is only 15 minutes from downtown Vancouver.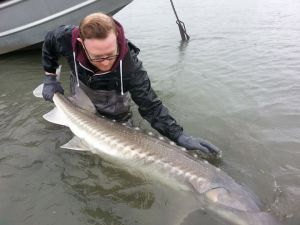 Please come by our new shop on Granville Island, we have all the right gear and bait to fish local waters..  We also have the most dialed in fishing information in town..  Check out this link for more information about the shop!
 http://www.bonchovy.com/blog/2014/01/new-location-and-gibbs-delta-pro-shop/
Please give us a call to book your spring fishing trip!   April and May offer some solid chinook salmon  and sturgeon fishing opportunities! Tight Lines,
Jeff, Jason,and Craig
604 763 5460