Vancouver Fishing Report, April 15th
Things have not really changed all that much from last week.  We have had some active days up in Howe Sound and have hooked a few fish in Vancouver Harbour , the QA and the Hump.   We are still having better success rubbing structure than in the offshore areas like the QA and the Hump.   This should change by this weekend and the south end of Bowen Island should really get going. The Gulf Island's and the Five Fingers have seen the first waves of fish over the last week.  The fish have primarily been offshore in the deep water but there have been some fish on the structure as well.  The Gulf Island's offer some of the best early season chinook fishing on the BC coast in May and we are looking forward to making some trips over there in a few weeks.[gallery ids="2664,2661,2611"] As we get into our offshore fisheries over the next 6 weeks it is really important to use lures and flashers with some sort of glow and/or UV on them, it will make the difference in the spring.   Any glow Gibbs G Force or  Silver Horde Kingfisher spoons are good bets.  If you like to run hootchies, the Splatterback Yamashita is a real good one in the spring.  Anchovies with glow or chrome teaser heads work well if you are running bait.   The Gibbs UV Lemon Lime, STS, and Bon Chovy are great flashers in the spring as they utilize both UV and glow. When trolling off the offshore waters in the spring look for current breaks and bait and cover water.  If you hit a fish, it is a good idea to circle back around as chances are there are more fish in the area.  The fish are often found from 50 to 160 feet.  Stagger your depths at the beginning  of your day until you can develop a pattern as on certain days a particular depth may be productive.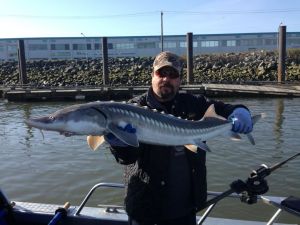 Sturgeon fishing has been really good this week.... Luke and Eric have had some really active days with good numbers of bites and hook ups.   The next month is a great time to get out on the Lower Fraser River for sturgeon.   With Vancouver departures from the Milltown Marina, sturgeon fishing has never been so accessible to downtown Vancouver. Tight Lines.....
604 763 5460