Vancouver Fishing Update, May 26th
The Gulf Island's have continued to be  productive with some very good numbers of chinook salmon being caught.  Some days the strong spring currents can make things challengin, but hanging in there and planning things around the gentler currents have been really important for success.  We have had some slower days where we have hooked 4 or 5 fish and some amazing days where we have hit over 20 fish.  The slower days have been due to the stronger currents.. When the tide and currents have been favourable the fishing has been amazing. The fish like last week have been scattered inshore and offshore.  In tight to Gabriola Island, Thrasher Rock, the Waterfall and the Grande have all have had some good periods of activity.  Anywhere off Thrasher Rock and the Flat Tops in 600 to 1200 feet have had fish as well.  Try and fish when and where  the current is not ripping really hard and you will do well. We have had our success on a variety of  gear over the last week.  If the surface water is dirty from the Fraser River run off we have found that  glow hootchies behind Gibbs Delta Guide Series Flashers to work really well.  In the clearer waters we have been using a lot of different Silver Horde and G Force Spoons...  Irish Cream, No Bananas, Kitchen sink and Homeland Security have been the spoons that have worked really well. On Saturday one of our boats got lucky and picked up a nice halibut while trolling off Gabriola Island.  The fish hit a glow hootchie behind a Gibbs Delta Madi Flasher.  There was  a few halibut caught last spring off Gabriola last yeast, lets hope we see a few more!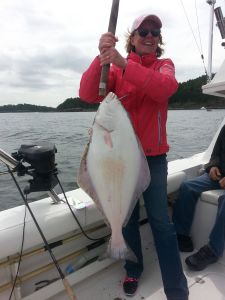 The fishing in local waters around Vancouver has been pretty hit and miss.  There is the odd fish in Vancouver Harbour, off the Hump, and in Howe Sound but you have to get a bit lucky to get consistent results.  With the low snow pack this year it is very likely we will start to see some early coho start to stack up off the West Vancouver shoreline by the second to third week of June.  In 2010 we had a similar low snow pack and we were doing very well for hatchery coho along the West Vancouver shoreline around June 10th.   So with some luck we may see our local coho fishery start a couple weeks ahead of schedule.   We should also see the first mature chinook salmon enter local waters in the 3rd week of June as they make their way up to the Squamish River.  These fish are primarily targeted in Howe Sound. The Fraser River is running quite high, but Luke has had some decent days fishing for sturgeon over the last week.   We have been scheduling our trips to fish the most optimum tides..If you only have time for a half day trip, a sturgeon trip is a a really good option despite the high water levels.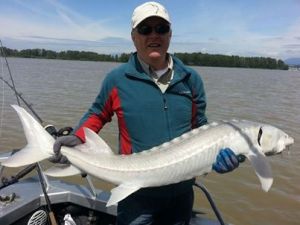 Please give us a call if you are interested in heading out on the water!  Our Gulf Island fishery will continue until early July and makes for a great full day fishing trip! Tight Lines,
604 763 5460