Vancouver Fishing Update, June 22nd
We have been on the water a lot over the last couple weeks...  Fishing has continued to be consistent for chinook salmon over on the Gulf Island's and hit and miss on our local  half day charters .   We have had a few encouraging local reports over the last few days, so with some luck our local fishery will pick up as it usually does this coming week!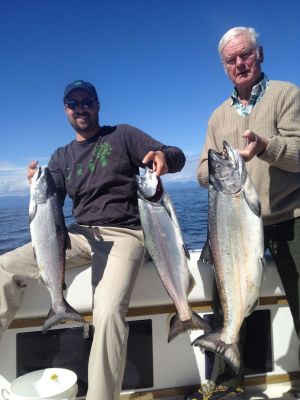 We have spent the vast majority of our time fishing on the eastern shoreline of Gabriola Island.  Thrasher Rock, the Grande and the Waterfall have been producing chinook up to 25 pounds.  As usual, Thrasher Rock has been the place to be on the ebb tide and the Grande/Waterfall have been best on the flood.  On average we have been hooking 4 to 10 chinook salmon on our full day trips. There has been a few coho being caught as well.  You can only retain hatchery coho at this point. We have had our success on Gibbs Delta G Force Spoons (Outfitter and No Bananas) , Yamashita Spackleback Hootchies, and Silver Horde Spoons (Homeland Security and Irish Cream)  Productive depths have varied from 110 to 190 feet. Our local fishery is showing a bit of life with a few fish being picked up off the Bell Buoy/QA and we have heard of a few fish in Howe Sound.  It is quite likely that this coming week we will start to see some coho start to get picked up off the West Vancouver shoreline and we should see the chinook fishing pick up at Hole in the Wall and Sunset in Howe Sound.  It is usually the last week of June when our local fishery starts to get going again. We are getting set for some great sturgeon fishing in coming weeks.  The Fraser River is starting to drop and by the end of June/early July things are really going to pick up.   We have been out in the high water recently and have had some decent success.  Things are only going to get better.  If you are looking to get on the big river our sturgeon boat is only 25 minutes from downtown Vancouver.  From Shelter Island Marina we are only minutes away from some great sturgeon fishing.
We are roughly 6 weeks away from the start of the Fraser River sockeye salmon run.   The Department of Fisheries and Oceans is forecasting the biggest run in history.  If everything goes according to plan we should see some amazing fishing in August and September off the Fraser River.  Forecasts for chinook also look very good!  If you are looking at booking  a weekend charter in August, it is a good idea to do it sooner than later as the charter operators in Vancouver are going to be very busy! We just got stocked up for this years sockeye fishery and have all the right sockeye hootchies and flashers in stock now!  Come by our Gibbs Delta Pro Shop on Granville Island to get stocked up on the right tackle for local waters!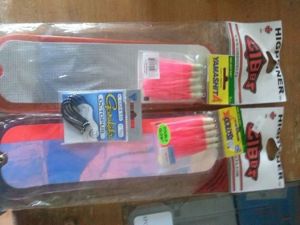 Tight Lines!