Vancouver Fishing Report, December 31st
The last week of 2014 has been a productive one!  We have enjoyed some good winter chinook salmon fishing and some beautiful weather!
Over the last week we have spent most of our time fishing Howe Sound, the Gulf Island's and Vancouver Harbour for winter chinook.  We have had success in all areas with some nice fish up to 13 pounds.   There seems to be a reasonable amount of bait in all of the areas and it if you are able to locate the bait, you will likely find some fish.   The next few months are some of the best for winter chinook salmon in local waters.  These fish move around quite a bit and paying attention to bait and structure is very important.  Keep your gear close to bottom and focus in 90 to 130 feet in Vancouver Harbour and a bit deeper in the Gulf Island's and Howe Sound.  Winter chinook salmon like to hold on sandy/gravel  flats..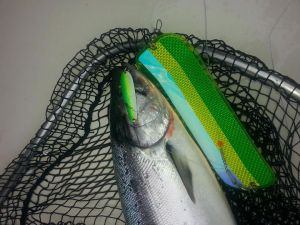 We have been having most of our luck running smaller green/glow Silver Horde Coho Killers and the Bon Chovy G Force Spoon.  Other good options this time of year are the Irish Cream, Cop Car, Homeland Security and No Banana's spoons.  We have been running the  Gibbs Delta Guide Serie STS, Bon Chovy, and Lemon Lime Flashers.  Please come down to our shop on Granville Island for all the best gear and advice for local waters.   We will be at the shop increasingly more as we get into January.  You can always call or email us if you want to make sure we are at the shop when you come by. Please give us a call  or email if you want to get out on the water this winter!
Happy Holidays and Happy New Year!