Vancouver Fishing Report, August 19th
It has been quite the week of fishing in Vancouver! We have seen some very good numbers of Fraser River bound chinook salmon in local waters!! In the mix there has also been some pink salmon and the odd nice coho salmon! Sturgeon fishing in the Lower Fraser has been productive as well with some great fish in the 6 to 8 foot range being landed!
The Bell Buoy, Point Atkinson, and the Mile Markers have all seen some great action over the last week. These fish are pushing through in waves and it is important to be persistent for results. When the bite comes on it has been pretty explosive at times. These fish are shallow and hit hard! We have been having our best success with our gear from 30 to 70 feet down. While fishing these returning chinook salmon, it is always a good call to pay attention to the tide changes as the best fishing is often associated with the mellower currents.
We find we have most of our success on Fraser Bound chinook running bait (anchovies and herring) and glow and white hootchies. We like to run Glow/Green/Chrome Rhys Davis Teaser heads in front of our favourite Gibbs Delta Guide Series Flashers..(STS, T 10, Lemon Lime, Bon Chovy and Madi). Spoons will pick up fish as well, but we find bait and hootchies to be more consistent producers. Our Gibbs Delta Pro Shop is open daily and we have all the right tackle for local waters and up to date reports. There is free 3 hour moorage for your boat if you are on the water and need to come in and grab some tackle or bait in a hurry! Pretty hard to beat a tackle shop with boat access when you are stuck for something important!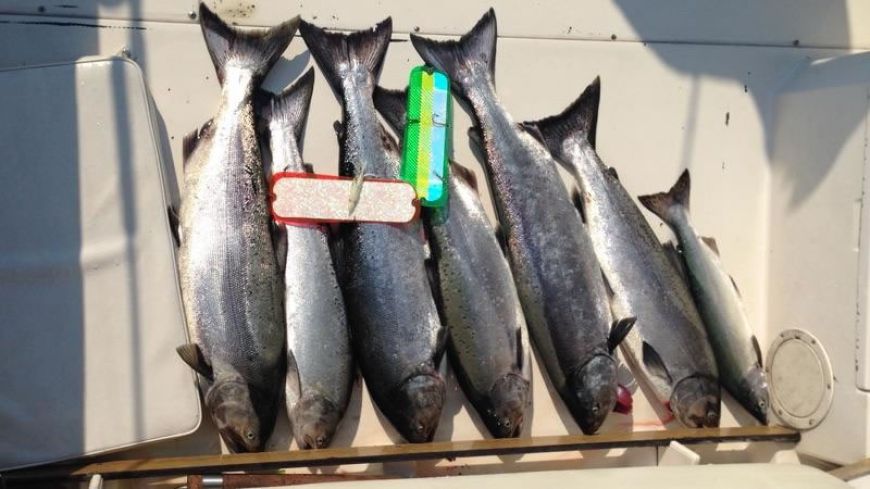 There are still good numbers of pink salmon up Howe Sound and lots of guys are having success casting Gibbs Minnow type lures to the schools of staging salmon. We recently headed up the sound to do some exploring, check out this video from that morning!
Sturgeon fishing on the Fraser River has been productive with some big fish in the 6 to 8 foot range landed over the last couple weeks.. There is lots of food in the river for them now and we are looking forward to continued solid fishing for the next few months!
We have lots of Vancouver Fishing Charter options, please give us a call or an email if you would like to get out on the water!