Gulf Island Fishing Report, May 13
The last week has provided us with some of the best spring chinook fishing we have seen in recent years.   We have had quite a few days where hooking 15 to 20 chinook salmon has been standard.   These 10 t0 25  pound chinook salmon have been spread out from Galiano Island all the way up to Nanaimo.  The fish have been primarily in deep water in 600 to 1200 feet and have been hitting almost anything you throw down there as long as you present it right.  The only limiting factor with this fishery is the weather, the winds need to be favourable in order cross the Strait of Georgia.  Most days have been beautiful, but we have had a couple blustery days where we have chosen to reschedule our Gulf Island trips.[gallery ids="2711,2704,2703,2702,2700,2690"] We have had our best luck over on the east side of Gabriola Island.  There has been lots of fish from Thrasher Rock all the way to Entrance Island.  Productive depths have been from 70 to 160 feet running anchovies, G Force Spoons, Silver Horde Spoons and hootchies.  We have been killing them running only two rods between 90 and 110 feet running our Gibbs Delta Guide Series UV Lemon Lime as well the  Bon Chovy Flasher paired up with a UV Yamashit Double Skirt Hootchie.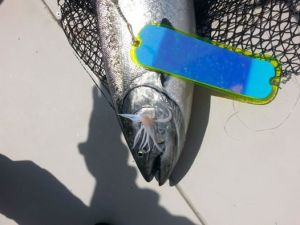 Locally fishing in Vancouver has been ok.  There has been fish off the Hump, QA, and inside Vancouver Harbour.  Most of our local half day trips have been hooking 2 to 5 fish.  The fishing locally in Vancouver is still decent, but if you have the time, a full day trip to the Gulf Island's is an excellent bet. Sturgeon fishing on the Fraser River has still been producing some nice fish, the water is rising slowly.   We timed our sturgeon trips to fish the optimum tides  and that has proven to be the key in the higher flows in the spring time.  Lampreys, roe, and eulachons have been working for Luke and Eric. Give us a call or an email if you want to head out on the water.  With some luck, this amazing fishing should continue over on the Gulf Island's for the next 6 weeks. Our Gibbs Delta Pro Shop is now open 5 days a week from 11am to 5pm from Wednesday to Sunday.  If you are looking for the right gear for local waters, please come by our shop and we can set you up.   There is almost always someone around our docks from now until October, so feel free to call us if you are ever in a pinch for bait or tackle even if it is outside of our posted office hours.  We are usually down there around 630am most days and can usually help you out if you are in need of some bait and tackle before you head out on the water.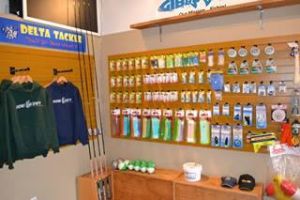 Tight lines!
604 763 5460