Vancouver Fishing Report, March 24th
Spring is now officially here and so are some very nice chinook salmon in Vancouver waters! We have had some solid full day charters over the last week with some great fish in and around the 20 pound mark. Sturgeon fishing on the Lower Fraser River has also perked up and we have had a couple good trips over the last week.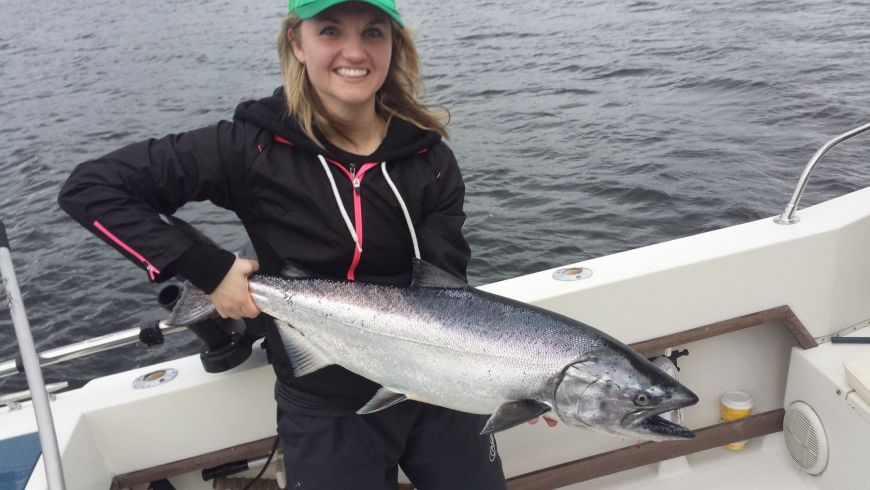 We have been spending most of our time over the last week in Howe Sound. The upper regions of Howe Sound had a very strong herring spawn this year and the chinook followed them up there. The fish that have been getting landed over the last little while have averaged in the 12 to 16 pound range. Pretty solid average for late winter! As the herring retreat back to the Strait of Georgia we will see the our fishery off the south end of Bowen Island really get going. We have already heard of some fish off the hump over the last few days. This fishery will continue to gain steam over the next few weeks.
In the latter part of March and early April, Vancouver Harbour can be a very good bet as well. Areas like Jericho, the Bell Buoy, and the Freighters will have fish. We have heard of some decent fish picked up this week in the freighter anchorages. The Gulf Island's have mellowed out after an incredible winter chinook fishery in January and most of February. We will start to see the waves of larger chinook salmon start showing off the Gulf Island's during the latter part of April. Check out this video that was shot in mid February! Solid day of winter chinook fishing in Vancouver.. Thanks to
www.corbiefieldwalker.com
for putting it together.
We have been running a mixture of bait and spoons behind Guide Series Flashers..(STS, Madi, Lemon Lime, and Bon Chovy) Our favourite spoons have been the G Force Trailhead and Bon Chovy and the Silver Horde Irish Cream and Homeland Security. As we get into our spring time fishery off the south end of Bowen Island and the Gulf Island's hootchies will also take their fair share of fish. Crabbing has been excellent in Vancouver Harbour and prawning in Howe Sound opens up on April 1st. If you are looking to do some prawning on a charter, we are happy to drop traps on request on our 8 and 10 hour trips.
Sturgeon fishing has been good over the last couple weeks with some nice fish in 4 to 6 foot range being caught. The Lower Fraser River offers really good sturgeon fishing opportunities in March, April and early to mid May. The sturgeon are feeding heavily after laying low for the winter. Give us a call if you would like to get out there.... Give us a call to get out on the water!