Vancouver Fishing Report, August 10th
Vancouver salmon fishing has gotten pretty exciting as more and more migratory chinook salmon push into local waters. Waves of chinook salmon have been rolling by local hotspots in varying volume every day. There are good schools of pinks around, a few coho, and some sockeye too. (sockeye are not open at this point) Sturgeon fishing has been solid with some big fish hooked and landed over the last 10 days.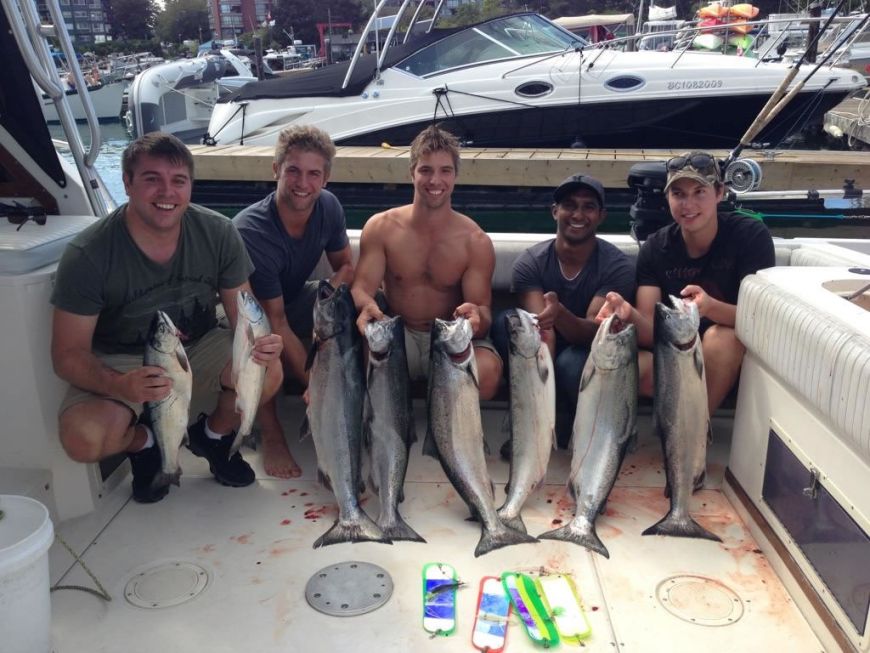 Fishing locally has been solid overall. There has been the odd tough tide, but more often than not, most trips are having good success on Chinook, pinks, and the odd coho. Now that better numbers of big chinook salmon are in local waters, we have been targeting them more than pinks and coho. The peak of our summer chinook red chinook run is in the next few weeks... In late August our fall run of big white chinook starts and continues into October. When looking for chinook salmon in August we tend to focus our efforts on Vancouver Harbour and the Mouth of the Fraser River. In the harbour, the Bell Buoy, Mile Markers, and the Point Atkinson are all solid bets. The Cap Mouth can also be surprisingly good on the right tide as the Fraser bound fish get pushed in on the flood tides quite often. Off the Fraser River, the North Arm Jetty, T 10 marker, and Sandheads are good bets... As our August fishery is based on migratory fish, being persistent in areas with good structure is important. You want to be in position once the wave a fish comes by.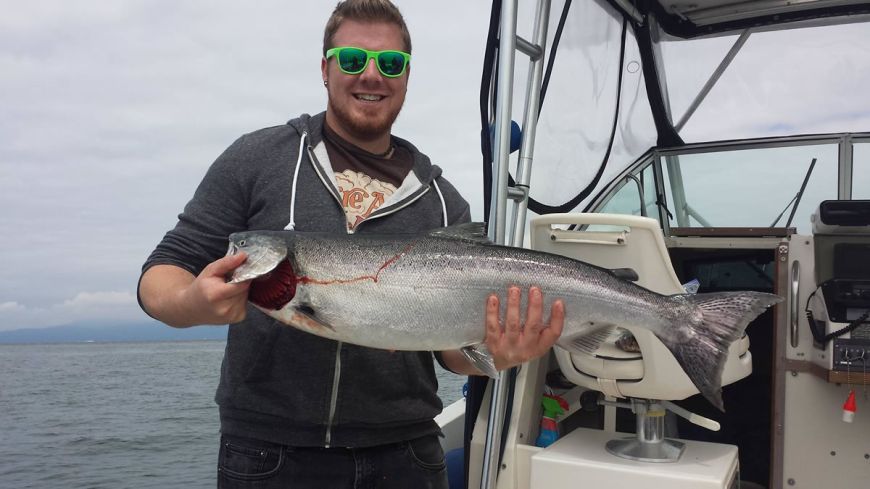 The nice thing about fishing in Vancouver in August and September is the variety of salmon species in local waters.. On a daily basis it is possible to encounter all 5 species of salmon. As we get later into August, more and more Fraser River bound pink salmon. This year we are expecting around 13 to 17 million pink salmon to return to the Fraser River. There will also be increasing numbers of coho salmon in late August and September. Have a look at this episode of Sportfishing Adventures that we shot off the Fraser Mouth in mid September 2013.
With the larger chinook in local waters we have been running primarily bait to target them. (anchovies and herring) Having said that it is surprising how effective a Yamashita Glow Hootchie can be in local waters in August and September. Our favourite Gibbs Delta Guide Series Flashers have been working for as usual.. The T 10, Green Blade Lemon Lime and STS have been particularly productive for us. If you are looking for the right fishing tackle for local waters our in house tackle and bait shop is open daily on Granville Island! Stop by for up to date reports! Sturgeon fishing in Vancouver has been very good this week. Some larger fish have been taken and the fishery has been pretty darn exciting recently. Things should continue to be productive with more and more salmon entering the river in coming months. Should be lots of food for them! Our sturgeon trips are only 30 minutes from downtown Vancouver!