Vancouver Salmon Fishing Report, July 30th
SOCKEYE OPEN ON AUGUST 1st
As July comes to a close, we are very optimistic about the fishing opportunities in coming weeks. Over the last few days we have had some very good chinook fishing on our full day trips and solid coho fishing on our half day trips. The chinook are getting bigger, we have had fish well into the mid twenties over the last couple days. The other big news is that sockeye salmon will be opening on August 1st. This is the peak year for Fraser River Sockeye, and if current trends continue, we are likely looking at a run of 14 to 18 million fish! So in short, it looks like we have some good opportunity in coming weeks!
In recent weeks, our full day trips have been running across to fish the east side of Gabriola Island when weather permits. Fishing has been very consistent and most days our boats were hooking 6 to 12 good chinooks a trip along with some coho. We have been running our gear pretty close to bottom in 150 to 220 feet of water in the Gulf Island's. We have been running flasher/hootchie combinations pretty religiously this month in the Gulf Island's. Blue, Green, and Chartreuse Yamishita Spackleback Hootchies have been very productive in tandem with Guide Series Bon Chovy, STS, Lemon Lime and Brain Freeze Flashers. The Gulf Islands will likely continue to produce for the next 3 to 4 weeks, but we will likely start to shift our chinook focus to the Fraser Mouth in the next week or two as the first big push of Fraser River bound chinook and sockeye hit local waters in the first to second week of August.
Local coho salmon fishing has been all over the map over the last few weeks. Some days have been lights out and other days been lights off! The last few days have been quite good and it is quite likely that consistency will improve over the next week. West Vancouver has had a few good short shots of coho, but the bulk of the summer hatchery run is still sitting and feeding offshore. I would be willing to bet that they will push into West Vancouver in the next 7 days. It is quite common to get a big push of coho this week. We will soon find out! Hard to beat white or glow hootchies on coho this time of year.
Early indications are pointing to a very good sockeye return to the Fraser River this August. This is the peak year in the four year cycle. Test fisheries in Area 20 off the West Side of Vancouver Island have been consistently strong over the last 10 days. As of now, according to the Department of Fisheries and Oceans the run is tracking slightly above the pre season P 50 forecast. If current trends continue we will likely see a run of 14 to 20 million fish back to the Fraser River this year We will be heading out this week to scout for sockeye. It will be still early in the opening and it may take a week or two for numbers to build. Stay tuned!!
We are getting rigged and ready for the sockeye opening. Our favourite set ups our pretty basic, we will run the standard local flasher colours of chartreuse, green, and red. Our choices are the Guide Series T-10, STS, and Bon Chovy Flashers. Other flashers will obviously work as well, but these are the ones that we rely on. We pair the flashers up with Michael Bait Red Sockeye Hootchies on a 26 to 30 inch leader. It is also very beneficial to run a few dummy flashers as well. We will have lots of sockeye gear in our shop on Granville Island if you need the right gear and some hints. Have a look at this video below that we did with
Fishing with Rod
in mid September in 2015, it shows what sockeye fishing can be like and the methods we use.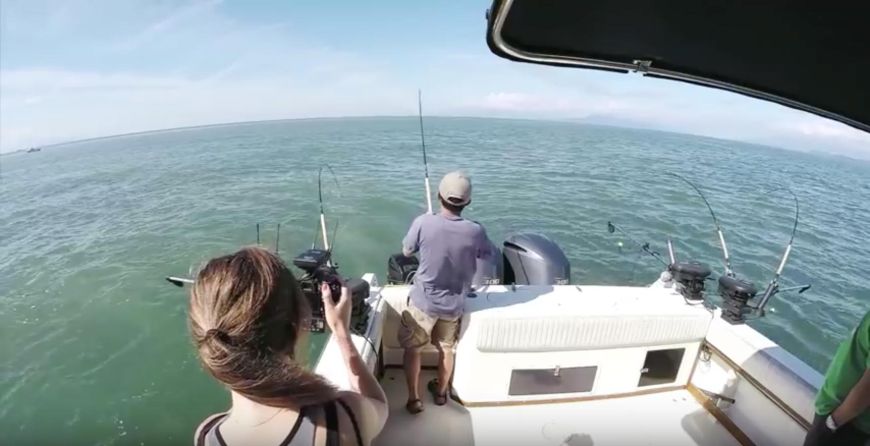 If you are looking to get on the water this August, please call or email soon as the local charter fleet is getting booked up quickly. We are hoping for a great summer fishery for chinook and sockeye!
TIght Lines!
info@bonchovy.com 604 763 5460