Pinks, Chinook, Coho And Big Sturgeon! July 31st Report
Things are really rolling along nicely in Vancouver Harbour and Howe Sound for salmon ,and in the Fraser River for some BIG sturgeon. In Vancouver Harbour, the West Vancouver shoreline has definitely the spot to be with lots of pinks, some coho, and a few big chinook up to 30 pounds.  The fish have been all the way along from Point Atkinson down to the mouth of the Capilano.  We have been running anchovies, white and pink hootchies, and pink Gibbs hockey sticks behind UV Moon Jelly Flashers.  The pinks and coho have been in the 25 to 45 foot range and the bigger chinook have primarily come on bait in the 45 to 65 foot range.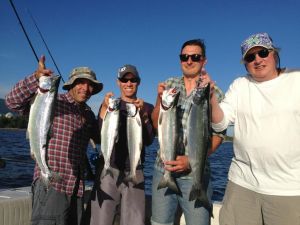 In Howe Sound, the pinks are pretty thick in a few spots.  We have been using the spinning rods and have been casting to schooling fish.  The Howe Sound fishery is a great one for kids and those who like to catch salmon on light tackle.  This fishery should peak over the next couple weeks before the run heads into the Squamish River system.  Casting anthing pink will get fish.  We have been sticking to the Gibbs Humpy Kits for most of our action. As we progress into August we will see the activity off the Fraser Mouth pick up considerably for big chinook salmon.  By the second week of August we will be spending a lot of time off the Bell Buoy, T 10 and the Sandheads for Fraser bound chinook salmon up to 40 pounds.  August is one of the most exciting months for big fish.  Big bites and hard fights!  By the third week of August we will see millions of Fraser bound pink salmon show up in local waters adding to the action.
Vancouver sturgeon fishing has been solid as well in the lower Fraser River.  Luke landed a 7'2" sturgeon and an 8'4" sturgeon on Monday. From now thru November look for some of the biggest sturgeon of the year to be caught.  Our sturgeon boat is only 15 minutes from downtown Vancouver.
Give us a call to book a salmon or sturgeon trip.....    604 763 5460