Vancouver Fishing Report, August 19th, Big Chinook!!!
Been quite the week of fishing in Vancouver!  We have seen some very good numbers of Fraser River bound chinook salmon in local waters.  Vancouver Harbour and the mouth of the Fraser River have been the places to be with some beautiful fish up to 30 pounds!  In the mix there has also been pink salmon and the odd nice coho salmon!
Our August chinook fishery is one that is based on timing...  These big fish come in waves and being persistent and working the drop off along the Fraser River Mouth is the key to success.  If the tide is really moving,  be patient and once it slows down or changes the fish are likely to go on the bite.  We have been running anchovies and glow hootchies behind Gibbs green UV Moon Jelly Flashers and Gibbs UV Lemon Lime Flashers.  Productive depths have been from 20 to 80 feet.
Now is a great time to do those 8 or 10 hour trips off the Fraser River for mouth for big chinooks, pinks and the odd coho!  Typically a pretty good action package....[gallery ids="2188,2189,2182,2181,2180,2179,2170,2191,2192"]
 Vancouver sturgeon fishing has been very good days on the Lower Fraser River this week.  We had a very successful full day sturgeon charter this past week.  They had an incredible day landing over 15 sturgeon and missing or losing the same number!  On average, landing 4 to 8 fish has been common place..pretty solid!  There is always the odd slower day, but August thru November are some of the best months of the year to fish for sturgeon.  Our sturgeon boat is only 15 minutes from Vancouver and is the closest jet boat to the city!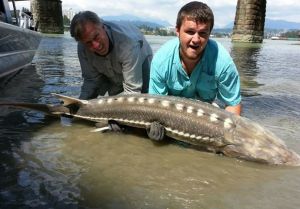 Give us a call to get out on the water!