Gearing Up For Vancouver Winter Chinook Salmon, November 14th Report
We had a few trips out over the last week with only a couple undersize salmon to report for our efforts.    Our results are not all that surprising as November is typically  the toughest month of the year for Vancouver salmon fishing.  Things will not stay slow for long as we should see things pick up for winter chinook salmon in a few weeks.  Over the last number of years we have seen things pick up in local waters in the first or second week of December.  By the middle of next month, things are usually in full swing in Vancouver Harbour and hooking a handful of winter chinook a trip is quite common.  We have had some encouraging reports of some nice fish up to 15 pounds over on the Gulf Islands over the last few days, so things are looking up.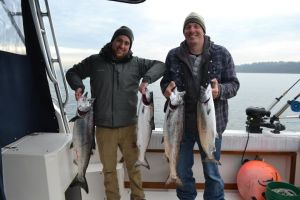 Our local winter chinook salmon we fish for in December, January, February, and March are resident fish that are 2 to 4 years old.  They enter local waters in the late fall and through winter to  feed on resident baitfish.  Most of the local baitfish is herring, but we have seen three spine sticklebacks, grey cod, shiner perch, and needlefish in the stomachs of the fish we catch.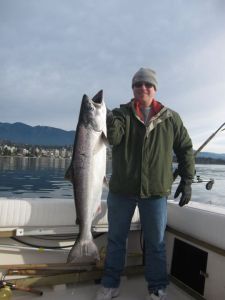 For the most part the winter chinook are in 80-200 feet of water in Vancouver Harbour, Howe Sound, and the Gulf Island's.   Some of the most productive areas in the Vancouver area is within sight of downtown Vancouver.  The inner freighter anchorages, the waters off Jericho Beach, and the West Vancouver shoreline are all productive at times for chrome winter salmon up to 20 pounds. We target these fish by fishing small spoons in the 2 to 4 inch range  behind glow flashers, very close to the bottom.    As we are dealing with deep water, low light conditions, glow flashers and spoons are essential.  We do not change our spoons all that often as we have a handful of spoons and a few flashers that are proven and trusted producers.   Some spoons we swear by in the winter are the Silver Horde Irish Cream, Silver Horde Kitchen Sink, Gibbs G -Force No Bananas and the Gibbs G F-Force Outfitters.  We keep our flashers pretty simple with a standard glow Gibbs Highliner Chartreuse and Green Flashers being our two favourites...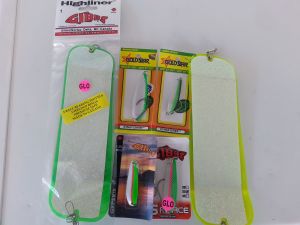 The winter months also offer some grea.t crabbing and prawning opportunities in Vancouver Harbour and Howe Sound, We drop traps for dungeness crabs on all of our charters and we drop prawn traps on our longer 8 and 10 hour trips.   In the winter there is not much recreational fishing pressure and there is zero commercial fishing pressure making for some very productive trapping!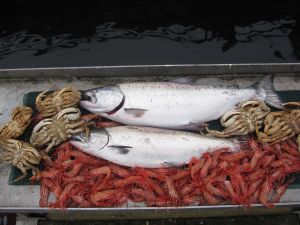 Winter chinook salmon fishing will likely be in full swing by mid December..  Please give us a call if you want to get out on the water!  It is a great way to beat the winter blues..... We are open through the Christmas Holidays.