Vancouver Fishing Report, February 10th
The last couple weeks have provided us with reasonably consistent winter chinook salmon fishing in local Vancouver waters.   Generally if you put your time in, you will likely see a few good fish on the line.  Besides a couple tough charters, most of our trips have averaged 2 to 5 hook ups on winter chinook salmon in the 5 to 12 pound range.  All the usual winter chinook spots have produced fish with our best success coming along the West Vancouver shoreline and the west side of Bowen Island.  We should start to see some larger fish push into local waters over the next few weeks as the big mature herring are starting to stack up to get ready for spawning. [gallery ids="2543,2544,2545"] If you have never tried winter chinook salmon fishing in Vancouver, there is just  over a month left to take advantage of our "Winter Chinook Special". From now until March 15th we have a great winter fishing deal going on.  Please check out the link below for more information!
http://www.bonchovy.com/blog/2014/01/vancouver-winter-chinook-charter-special/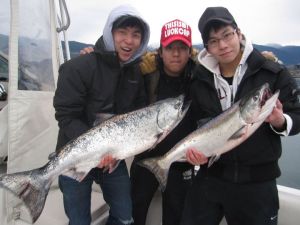 We have been getting our bites on a few different spoon and flasher combinations.   For flashers we have been running the Gibbs UV Lemon Lime, Bon Chovy, and STS flashers.  All of these flashers have a glow and UV component to them and are really good for winter chinook as we are trolling deep where there is not a lot of light.  For spoons we have been having good success on the G Force- No Bananas and Flamin Hans, as well as the  Silver Horde Irish Cream and Homeland Security spoons.  We have all the right gear for local waters in stock in our Gibbs Delta Pro Shop.  If you are looking for  up to date fishing information and a dialed in selection of Vancouver Saltwater Tackle, please stop by our shop on Granville Island.  Check out this link for more information..  
 http://www.bonchovy.com/blog/2014/01/new-location-and-gibbs-delta-pro-shop/
[gallery ids="2520,2521,2519"] Crabbing has been excellent in Vancouver so far this season in Vancouver Harbour.  We have had our success off Stanley Park, West Vancouver and off the Jericho/Locarno shoreline.  It seems like you can just drop your trap anywhere in the harbour in 20 to 80 feet and expect to a good feed of dungeness crabs.  We have been prawning on our longer charters and have done OK, not great.  There seems to be a lot of pressure on the usual spots this winter which are surely having an impact on success rates. By the middle of March, temperatures in the Fraser River will begin to rebound and Vancouver sturgeon fishing will really pick up.  We had some exceptional fishing last spring in the Fraser River and we are looking forward to getting back out on the big river this spring to chase the biggest freshwater game fish in North America.  Our sturgeon trips are only 15 minutes from downtown Vancouver.[gallery ids="1846,2152,2274"] Early indications from the Department of Fisheries and Oceans is that the 2014 could quite likely be a banner year.  It is still early, but if things come together like initial indications suggest, we could be in for some very good chinook, coho and sockeye salmon fishing in the Vancouver area.  Only time will tell what transpires, but there is definitely a buzz in the air about 2014! Tight lines....
Jeff, Jason, and Craig                    604 763 5460