Vancouver Fishing Report, April 7th
Over the last week we had a couple days of very good fishing and a couple days where we had to work for our bites.  We had an awesome morning on Friday hooking up with 10 fish in 3 hours. Some of them were legal, some were undersized, and some were lost.  There are definitely some good pockets of fish around,  just have to have a little luck and insight to find them.[gallery ids="2644,2645,2646"] This past week saw quite a few different areas produce fish. The South End of Bowen Island, the Gulf Island's,  Vancouver Harbour,  and Howe Sound have all had fish.    We are expecting the south end of Bowen to really start picking up  in the next week or so.  Last year  it was around the 12th to 14th of April that things started to perk up.  As of now, it is still a one here, one there, kind of thing.  We  have had our success on G Force and Silver Horde Spoons and anchovies this week.  We are going to starting running some larger 4.0 spoons in coming weeks as they are quite often very effective off the South End of Bowen Island. Crabbing has been excellent in Vancouver Harbour and prawning has been very good when we drop traps on our longer 8 and 10 hour trips. If you are looking to get out and do some prawning, now is the time to go as the commercial season opens up in early May.[gallery ids="2649,2648,2647"] Sturgeon fishing has perked up in the Lower Fraser River and April is a really good time to get out there.  If you are looking for a sturgeon trip that departs Vancouver, please get in touch with us.   Not only is the fishing excellent, but the jet boat is only 15 minutes from downtown Vancouver!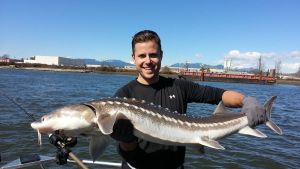 The weather looks like it is going to be amazing starting mid week. Please give us a call if you want to head out on the water to enjoy the first warm weekend of the season! Tight Lines....
www.bonchovy.com                                    604 763 5460