Vancouver Fishing Report, April 22nd
Things have perked up substantially over the last few days off the South End of Bowen Island and the Hump.  The only issue over the last handful of  days has been the weather.  When the water was nice, there were quite a few boats that landed 3 or 4 legal chinook.  On the low slack on Friday afternoon, the weather was beautiful and the fish were biting.   Lots of boats landed multiple chinook salmon up to 20 pounds.  Our boats had a tough go as the weather to not cooperate with our charters on the weekend and we ended up cancelling our trips due to weathe The chinook salmon have been scattered from 70 feet all the way down to 160 feet with the majority of the fish being caught from 100 to 140 feet.  The hump is a big area and covering water is very important.  If you get a fish, double back and see if  you can get another.  Pay attention to what depth you are getting your bites.  The key is too try and dial in a depth and an area where fish are holding.  The area where the fish are holding  will change daily so don't be afraid to cover ground if it is slow.   You have to put your time in too get your fish...   We had our bites on anchovies and smaller 3.0 Silver Horde spoons behind the Gibbs-Delta Guides Series UV Lemon Lime, STS, and Bon Chovy flashers.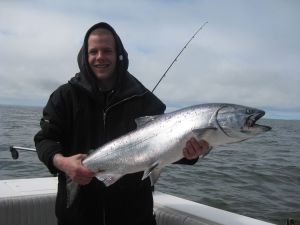 Crabbing has remained super productive in Vancouver Harbour. We are dropping traps on every charter. Give us a call or stop by our office on Granville Island if you want to head out on the water.  From now until  the second or third week of May is when you want to fish locally for chinook.  After the 3rd week of May, it is all about full day trips to the Gulf Islands!   Our tackle shop will be keeping regular shop hours starting his week for the season so please stop by for up date information, bait and all the right Gibbs-Delta, Silver Horde, Yamashita, and Rhys Davis gear for local waters.  We will have our shop hours posted this week.  Stay tuned.. Sturgeon fishing has been quite good in the Lower Fraser River this week.  We had a 3 trips out last week and all the trips did well landing 4 to 8 fish per trip...  Pretty good!  Sturgeon fishing will be solid for the next month.  With departures out of the Milltown Marina in Vancouver, it is so convenient! Only 15 minutes from downtown Vancouver!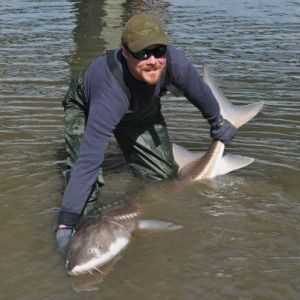 Please give us a call if you would like to get out on the water...  Now is a solid time for chinook salmon and sturgeon!
Here is a short film from a morning trip last April off the South End of Bowen Island!
Tight lines!
www.bonchovy.com
604 763 5460                       
info@bonchovy.com