Vancouver Fishing Report, June 3rd
The last week has been challenging due to stubborn Northwesterly winds.   The high winds have made crossing the Strait of Georgia a bit sketchy and we have cancelled most of our trips over the last 5 days. The boats that have been sneaking out during the breaks in the wind have been doing well with good numbers of chinook being hooked up.  It looks like the winds are going to knock off by Thursday/Friday and we will be able to get back over to the Gulf Island's.  The next few weeks are typically really good to fish in a little tighter to the structure.    For the balance of May, a good portion of the angling pressure was in the deep water on the eastern of Gabriola Island.  As we move into June and July, the fish will likely stack up more on the structure than the offshore waters.   Areas like the reef at Thrasher Rock, the Waterfall, the Grande and Whalebone will all kick out fish consistently this month.  Trolling in 120 to 200 feet of water seems to be where they usually sit.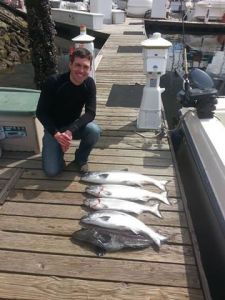 We have been getting fish on a variety of gear over the last week.     No Bananas, Homeland, Irish Cream, Kitchen Sink, and the Outfitter have all been good spoons.   The Yamashita spackleback hootchies in green, chartreuse and blue  have been very good as have the Yamashita Double Skirt hootchies.  The Gibbs Delta Guide Series Flashers have been our go to flashers (STS, Bon Chovy, Madi and Lemon Lime) Local fishing in Vancouver has been pretty hit or miss.  There has been the odd report coming from West Vancouver, the Bell Buoy, Howe Sound, and the Hump, but nothing great.  If you have the weather and the time, the Gulf Island's is where it is at right now.    With the low snow pack and increasing numbers of coho showing through the month of June, there is a good chance that we will see coho salmon being caught with consistency by the middle of this month off the West Vancouver shoreline.   With all the early coho around the Strait of Georgia so far this year, there is a good chance we will see a good coho run in Vancouver Harbour this summer... Give us a call if you want to head out on the water,  June is typically a great month to fish the Gulf Island's!
www.bonchovy.com                                            604  763 5460
info@bonchovy.com