Vancouver Fishing Report, July 20th
The local Vancouver fishery has been consistently inconsistent over the last week.   We have had some charters this week where we have hooked a dozen fish and had a couple charters  where we have struggled to hook a fish or two.  We should be into the peak of our coho salmon fishery off the West Vancouver shoreline right now, unfortunately the fishery has been on the finicky side.    There has been some nice chinook salmon up to 35 pounds in Howe Sound and Vancouver Harbour in the mix as well, but they have also been here one day and gone the next.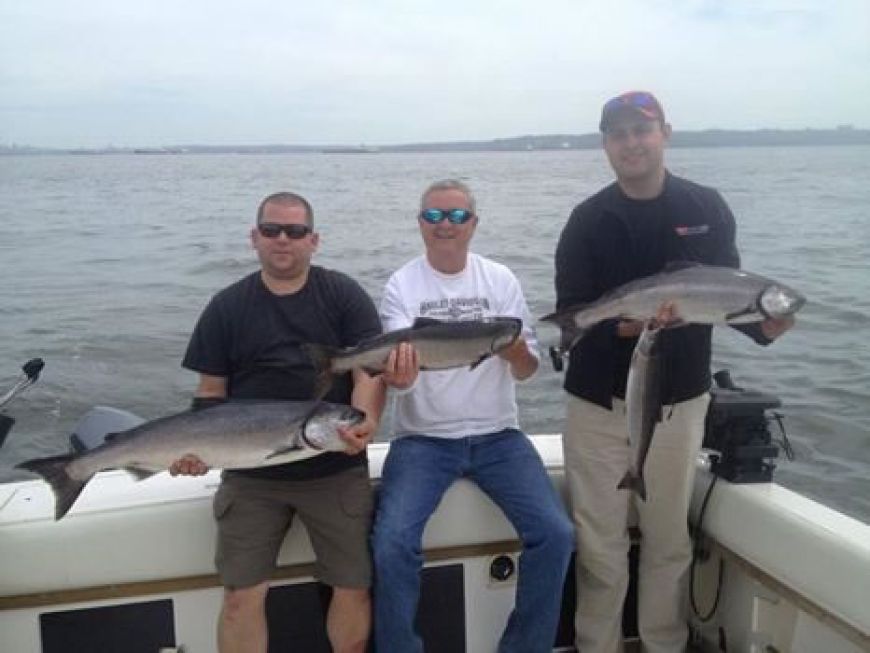 The West Vancouver shoreline has been the most consistent producer of fish over the last week.   The schools of coho have been scattered all the way from Point Atkinson down to the Mouth of the Capilano.  Some days the fish have been concentrated in the shallows and some days they have been out in the deeper water.  We have been spending a little more time doing longer tacks down the ledge on the West Vancouver shoreline as we seem to encounter larger chinook salmon that way.   We have had our best success this week running anchovies behind Gibbs Guide Series Flashers  (STS and Bon Chovy) Howe Sound has kicked out chinook on a daily basis.  Success varies day to day and you definitely have to put in a good effort to get results..  There was a nice 36 pound chinook caught near Lions Bay this past week.  Anchovies have hit the majority of these Squamish bound chinook.     Below is a picture of Simon and his 20 plus pound chinook from Hole in the Wall.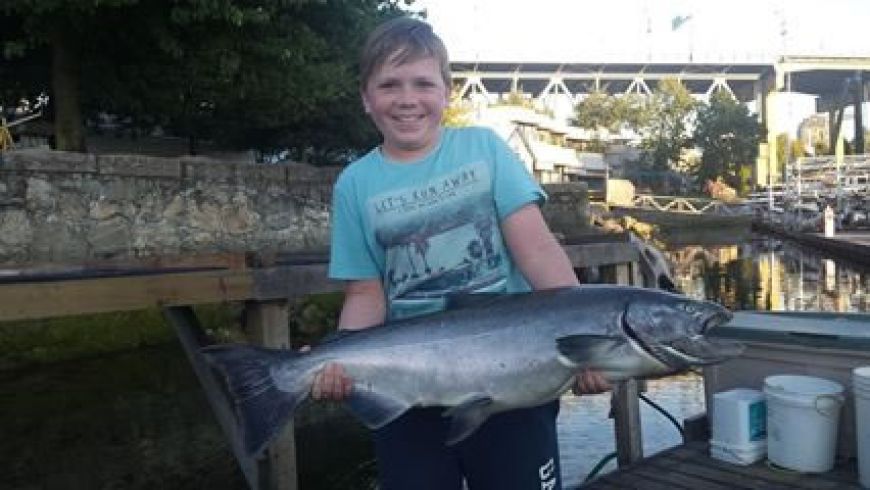 The Gulf Island's have had a few waves of fish over the last week.  We have had a few trips over there recently and have done OK, landing some nice chinook, coho and ling cod.  As we move into late July and August we will likely not be spending too much time over there as the Fraser River Mouth will be heating up very soon for Sockeye and Chinook salmon. Sockeye salmon numbers in the approach areas to the Fraser River have started to increase over the last couple days.  Hopefully numbers will really start to spike soon as we all can't wait for this year's forecast record sockeye salmon run.  Barring no huge issues with the run, we should see an opening in the first or second week of August.. Our Gibbs Delta Pro Shop on Granville Island is well stocked with a dialed in selection of gear for local waters.   We just got a big order of  "Guide Series Flashers" in this week.  Please stop by if you are looking for tackle that works in Vancouver waters.   Our shop is open daily from 11am to 6pm.  Feel free to call us outside of shop hours if you are looking for gear.  There is usually someone on the docks that can help.            
Sturgeon fishing has been quite good this week.  The Fraser River has now dropped and now is the time to think about getting out there.  August, September, October and November are the prime months to fish the Fraser River for big white sturgeon.. Please give us a call, an email or stop by our shop on Granville Island.  Here is a link to our shop location..
http://www.bonchovy.com/location.php
Tight Lines
604 763 5460