Vancouver Fishing Report, July 30th
GOOD NEWS!!  The numbers of sockeye salmon in the approach areas to the Fraser River have started to spike over the last 3 days!!   It is looking like the big run of sockeye salmon that is forecasted for coming months is tracking on schedule and we could see an opening as early as Friday, August 1st!    There may be a formal announcement later today on a sockeye opening.  Even though sockeye may open in a couple days, it is not likely that fishing will really pick up for sockeye until later next week.  We will be ready for them!!!!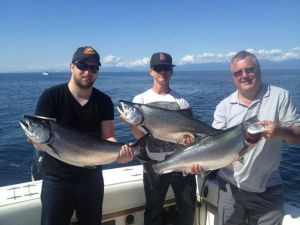 We have been grinding things out in Vancouver Harbour and Howe Sound over the last week with continued mixed results.  On some charters we have been hooking 8 to 10 fish and on some charters we have been struggling to hook a few fish.   We have been focusing most of our efforts along the West Vancouver shoreline for coho and chinook.   The nice thing is that over  the last few days as there has been increasing numbers of bigger Fraser River bound chinook salmon in local waters.  It seems like every charter over the last few days is getting a shot at 1 to 3 big chinook.  As we progress into August we will specifically target Fraser bound chinook salmon off the Bell Buoy,  North Arm, T 10 and Sandheads.  The peak of the Fraser River Red Chinook run is typically between the 8th and 30th of August.  It is nice to see these early reds around as hopefully it is a sign of things to come.  We will likely head down to the Fraser Mouth this weekend to avoid the crowds in West Vancouver and target the Fraser River fish.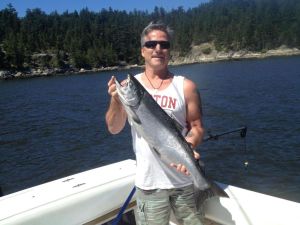 We are all stocked up at our Gibbs Delta Pro Shop on Granville Island with all the latest and greatest gear for local waters.   We have all the right gear for local waters in stock.  We should have the latest Gibbs Delta Guide Series "T 10" flasher in stock later this week.  The "T 10" is a red blade UV/Glow flasher that will be a Fraser Mouth sockeye killer.  We also have the Michael Bait sockeye hootchies in stock.   The Michael Bait sockeye hootchies are the ones you want.  A good thing to remember when you are fishing for sockeye is to run multiple flashers (dummy flashers) off your downriggers.  The more flashers you can run the better, get the school to follow you!!

Sturgeon fishing on the Fraser River has been very good over the last week.  Luke has been guiding almost every day this week and has hooked some good numbers of fish, including some fish in the 6 and 7 foot range.  Now that the Fraser has dropped and the salmon are starting to enter the river the  fishing should continue to be very productive.   On average we have been averaging 5 to 12 hook ups on a 6 hour trip..... Pretty good action!   Let us know if you are interested in heading out on the big river, we are the closest sturgeon operation to downtown Vancouver....only 25 minutes away![gallery ids="2812,2811,2810"] It is looking like things are really going to pick up a  after a hit and miss July!    With  the forecasted record sockeye run and the increasing numbers of Fraser River Chinook numbers and great sturgeon action, we should be in for some great fishing over the next couple months!   If you are looking for a weekend date in August, it is a good idea to book  it now as there is only a few spots available. Please call, email or stop by our shop on Granville Island!   Going to be a fantastic August!
Tight Lines,
604 763 5460