Vancouver Fishing Report, September 24th
We have had some excellent fishing this week in local Vancouver waters. Solid numbers of big chinook in the 15 to 35 pound range have been making their way into the Fraser River. As a result there has been some good periods of activity off the North Arm, T 10 and Sandheads! Looks like we are going into a stable weather pattern for the next 7 days with quite a bit of sunshine and calm waters forecasted.
The last few days have been very active off the Fraser River Mouth. Most of the action has been in Crab Pot Bay and Sandheads, but there has also been some good flurries of activity off the North Arm, Iona and T 10. We have been landing primarily larger chinook in the 15 to 30 pound range, but we have also seen some wild and hatchery coho, the odd chum salmon, and even a few late pink salmon. These migratory fish as per usual have been coming in waves, so persistence is often required to put fish in the boat. There has also been chinook salmon off the Capilano River Mouth and we have been having success there as well.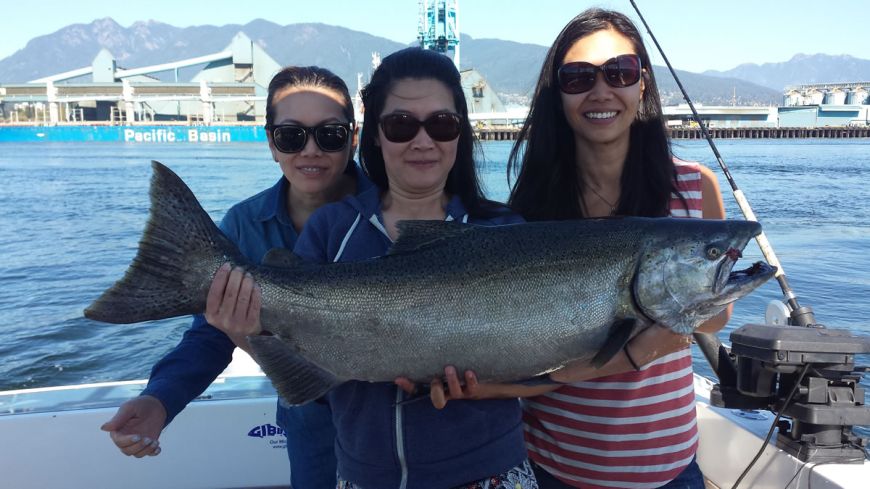 These later run fish are most effectively targeted by running anchovies in teaser heads behind flashers. We have been having our best success on green/chartreuse/glow Rhys Davis Teaser Heads and Gibbs Delta Guide Series Flashers like the STS, Madi, Bon Chovy, and Lemon Lime. Productive depths off the Fraser River Mouth have been from 30 to 90 feet and 80 to 100 feet off the Mouth of the Capilano. Our tackle shop on Granville Island is open daily and we have lots of bait in stock and all the right tackle for fishing in Vancouver. Please stop in for the right gear for local waters and up to date reports!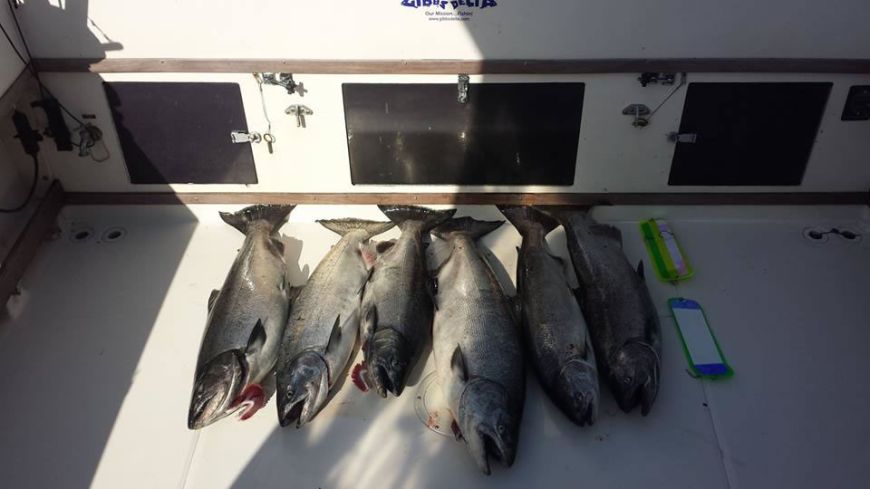 Sturgeon fishing has been very good in the Lower Fraser River. Luke and Eric have been guiding there guests into good numbers of fish averaging in the 4 to 7 foot range. Fishing will continue to be productive for the next couple months as these big fish fatten up for the winter! Our sturgeon charters are only 30 minutes from downtown Vancouver!
Right now an 8 hour trip down to the South Arm of the Fraser River is a really good bet! On our half day trips we will primarily look at fishing the flood tide off the Capilano River. Definitely some good options for the last few weeks of our migratory salmon fishery. Things will likely slow right down for salmon in Vancouver waters around October 15th. After that we will have to wait for the first winter chinook salmon of the year later in November and December! Sturgeon fishing in the Fraser River will continue to be productive in October and November. Give us a call to get out on a charter! Only a few weeks before things slow down for salmon!!